Searching Furnace Repair Near Me? Maintain Your Heating Systems With Our Water Heater and Furnace Tune-Up Services in Sacramento, CA
If you are looking for furnace repair near me, furnace tune-up near me, or walk-in water heater repair near me on an immediate basis? Hire us now for furnace repair, walk-in water heater repair, and walk-in furnace replace in Sacramento, CA.
Our technicians help you precisely when you need heating or furnace repairing services. Because ACS focuses on integrity and courtesy in interactions, our clients save their appliances with high-quality work. So, when you select the right HVAC services provider, you choose the best business partner too. 
Experience Impeccable Furnace Repair & Furnace Replace Services California, USA
A heating system that fails can be a disaster, primarily if you depend on it to operate your daily routine. All Climate Solutions INC offers a complete range of furnace repair services to keep your heating systems working without any flaws. All Climate Solutions INC has a team of highly trained technicians who are skilled in furnace repairs. You can rest assured that they will be able to assist you with any problem that might arise. So if you are searching for Furnace repair near me, we are an optimum choice for catering to your need
WHO ARE YOU HIRING FOR YOUR HEATER REPAIRING SERVICES?
Many furnace repair companies can help you, but we are one of the best HVAC companies to satisfy your needs. We are experienced and knowledgeable. You will get better service because we have been in business for a long.
Finally, we are a company with the right qualifications to deal with heater incidents. We are working with proper insurance, bonding, and licensing to ensure you are fully covered. You will get complete protection when you hire us for furnace replace, repair or installation. Working since 1998, we are a trusted source for commercial & residential HVAC services in town. 
What Includes In A Water Heater Repair Services?
We maintain a checklist for testing and cleaning heating systems of all brands. So, when it comes to repairing, we go for a comprehensive checkup under the supervision of an experienced team and update you with all solutions. Our appointment includes but is not limited to the following:
Aiming to provide you long-run system, we provide detailed recommendations for future security. This is why our clientage is permanent.
What Happens During A Heater or Furnace Repair Appointment?
After successful meeting, our technicians troubleshoot the heating systems and find the issues. After it, we work using our equipment and industry knowledge to repair your system. In the end, your system works like it is new. So, if you need an appointment, you can call us and put your confidence in the best contractor at All Climate Solutions INC (ACS).
Looking For Furnace Tune Up Near Me? Get Quick Response For Heater Repair And Services
Myriads of things can go wrong with a furnace, and you never know when they will happen. Due to climate changes, winters can be frigid, so we know you need your furnace to work at all times. All Climate Solutions INC offers a 24-hour emergency furnace Tune-Up service. We are the best search result for a furnace tune-up near me. 
Our trained technicians will indeed evaluate and fix your furnace problems. We respect our customers' decisions and will always be open and honest to help you find the best solution. We will respond quickly to your call, fix your furnace, and even provide you with water heater repair services in Sacramento / North Highlands and nearby areas.
Need Water Heater Repair Near Me? An Accomplished Provider Of Water Heater Repair Services
A cold shower is not something anyone likes. Call a professional plumber immediately if your water heater suddenly stops working. All Climate Solutions INC can help you with your water heater repair, whether complex or straightforward.
We are ideal if you are searching for water heater repair near me. We can handle any water heater problem, whether small or large. Our professionals have years of combined experience and use high-quality equipment and material to ensure that your water heaters work optimally.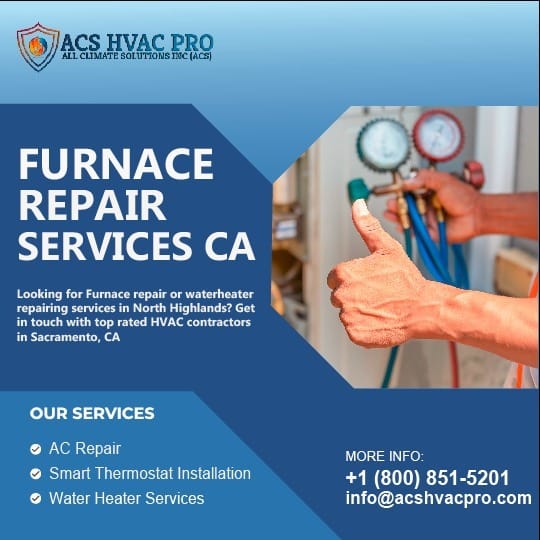 Searching Furnace Repair Near Me? Call Today For Heater & Furnace Repairs And Services
Our professionals will fix your heater as best we can. However, we will also be honest if your heater is beyond repair. Our experts will give sound advice as per your budget. 
We know how important it is to have a working water heater. Our professional technicians use a systematic approach to diagnose the problem. We can identify the problem and fix it so that you can enjoy a warm and hot shower in the chilled winter season. So, go immediately and book your services now for furnace replace. Remember to check our AC Tune-Up Services.
If you'd like to schedule an appointment for repairs, replacement, or services, you can contact us at your earliest convenience by calling +1 (800) 851-5201. A friendly representative from our team will answer the call, take down your details, and we will dispatch a technician to help you out as soon as possible. As we already know how important it is to deal with heater issues, we prioritize your case for the immediate help you need.