Looking For Air Duct Repair Near Me in North Highlands? Get Split Ductless AC Repair by Technicians or Affordable Air Duct Replacement Cost In California | Rio Linda | Natomas | Elk Grove | East Sacramento | Downtown Sacramento, CA
Air Duct Repair in North Higlands | Sacramento | Auburn | Amador City | Cameron Park | Camino | Diamond Springs | El Dorado Hills | Loomis | Ione, CA and Surrounding Areas
Are you looking for duct repair services near me in California? Get split ductless ac repair at your doorstep. We can also replace the damaged air duct. You can also contact us for the best & affordable air duct replacement cost. 
As climate change continues to be a pressing issue, finding ways to reduce our carbon footprint has become more critical than ever. One way to do so is by ensuring that our air conditioning systems run efficiently. It can be achieved through professional air duct repair or split ductless AC repair service in Sacramento, CA. All Climate Solutions INC (ACS) offers air duct services to keep your ductwork organized and effective.
What Is The Importance Of Air Duct Cleaning?
Air ducts are responsible for distributing cool air throughout a building. Over time, they can become clogged with dirt, debris, and even mold. It not only reduces the efficiency of the system, but it can also lead to poor indoor air quality. Professional air duct repair service at All Climate Solutions INC (ACS) involves cleaning and repairing any duct damage, ensuring that the system is running at its best.
Air ducts are sometimes overlooked, especially since they are made to be hidden from view. Yet, it's crucial to have your ductwork correctly cleaned and maintained to keep it operating well and avoid harm to the entire HVAC system. Ductwork accumulates trash over time from your home, which, if left uncontrolled, can choke the duct and decrease airflow.
Replace Your Traditional HVAC Systems In This Modern Era - Best Split Ductless AC Repair In Orangevale | Rancho Cordova | Lincoln, CA
Split ductless AC systems are a popular alternative to traditional HVAC systems. They do not require ductwork and instead use individual units to cool specific areas of a building. However, they can experience refrigerant leaks or electrical malfunctions like any system. Split ductless AC repair involves identifying and repairing these issues, ensuring the system is running efficiently again.
By investing in professional air duct maintenance, you are reducing your carbon footprint but also improving the indoor air quality of your building. Additionally, a more efficient system can lead to significant cost savings over time. 
Our Air Duct Services In Placerville | Roseville | Rocklin | Florin, CA & Surrounding Areas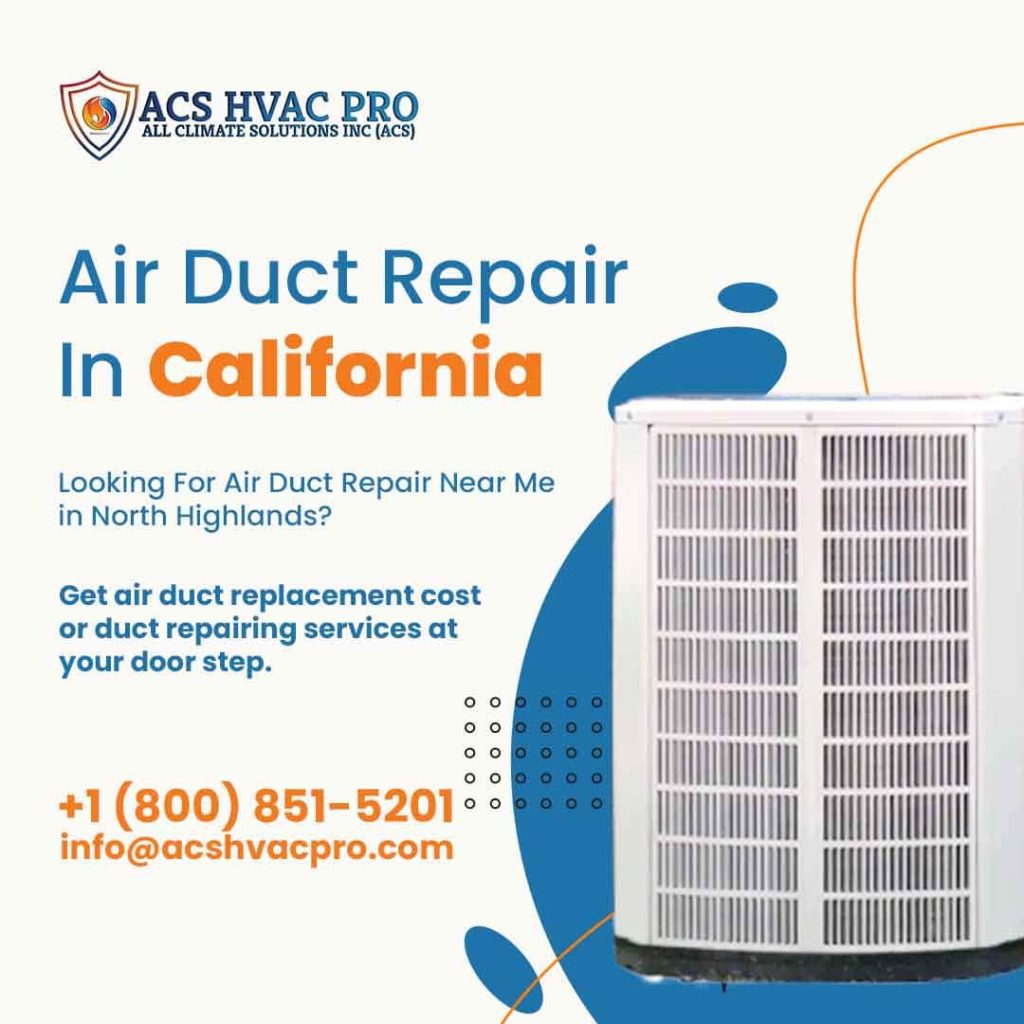 How Much Does Air Duct Replacement Cost in Sacramento, CA? - West Sacramento | Rancho Murieta | Carmichael | Rio Linda, CA
Replacing the air ducts altogether may be more cost-effective. The air duct replacement cost varies depending on factors such as the size of the building and the type of duct used. However, it is essential to note that the savings can offset the cost of replacement on energy bills from a more efficient system.
However, as per research in 2023, the average air duct replacement cost in Sacramento, CA, is between $164.00 & $662.00.
Air Duct Repair with All Climate Solutions INC (ACS) In Natomas | Elk Grove | Sacramento | North Highlands, CA
We can keep your systems running all year efficiently, saving your electricity expense and keeping you cool and comfortable in the summer while breathing higher-quality air. If you need Duct Repair service in Sacramento, contact All Climate Solutions INC (ACS) to find out about specials, financing, and services that will improve the indoor air quality of your home at an affordable cost.
You can call +1 (800) 851-5201; we provide world-class air conditioning services. You can also check out our reviews on Google Maps about our services. We are proud of our work and work hard to give our customers excellent service.