Searching Furnace Installation Near Me? Get wall heater, boiler, & heat pump installation Sacramento, California
Looking for furnace installation near me? Get wall heater installation, boiler installation or heat pump installation Sacramento Califronia form top rated furnace companies near me +1 (800) 851-5201
Fix All Your Furnace Issues With Our Professional Help
There are different Furnace services that you will need to obtain. Because it is essential to maintain healthy and protective machinery, these are the machinery that will take a necessary step towards your different services. Hence, All Climate Solutions INC (ACS) is here to provide the best services for your specific needs. We have been proudly functioning since 2018 and have gained some of the best experts to fix your issues. We do this within the shortest time frame.
Moreover, we also come with a durable set of tools and equipment. It helps us in getting the best kind of repair for you. We offer some exclusive services and offers to our customers. Call Us now at +1 (800) 851-5201
Choosing The Right Products For Your Heater or Furnace Replacement
There are a lot of factors to consider in terms of knowing about the machine and its working. Furnace installation is complicated, but not when you know all the different brands and their facility. Hence, our workers have all the skills to make this process easier and more efficient. 
Furthermore, we have a specific method for how we manage to give you the best installation of all sorts of heaters. We do this by considering the pros and cons, load calculation of your commercial space, and other measurements. Then we think of the ductwork and the physical area where you want the new furnace. We also check all of the gas lines as well as electrical wiring. So it is ensured no issues are coming the way. Hence, when this is done, we will get ready to install the new furnace using our special equipment and machinery for ease. 
After all, we aim to provide you with functional heating systems considering your financial needs. This is why we have a 100% success rate with all our customers. 
Quick Installation For Heater Replacements or Wall Heater Installation In Sacramento, CA & Nearby Areas
It is a great option to warm up a room instantly. There are different strategies that we apply here as well to get the best out of all the installations. We take a good look at all the different kinds of wiring within your space so that we install the wall heater properly. It can also be complicated to locate the thermostat on the wall. However, we are always using efficient sources which are reliable as well to maintain the right way of heating your room quickly. 
You can book an appointment with All Climate Solutions INC (ACS) for the physical replacement or wall heater installation. Our experts are available for removal or walk-in wall heater installation services in California. Our experience with all brands makes us work consistently without leaving any mess behind. 
Need Boiler Installation or Heat Pump Installation In Real Time
Boiler installation or heat pump installation or replacement, we have experience in all. We do everything cautiously and ensure the material is acceptable before we commit to replacing the old heat pump or boiler. We first disconnect the old one and then maintain the connections with the newer one to give you the best supply and services.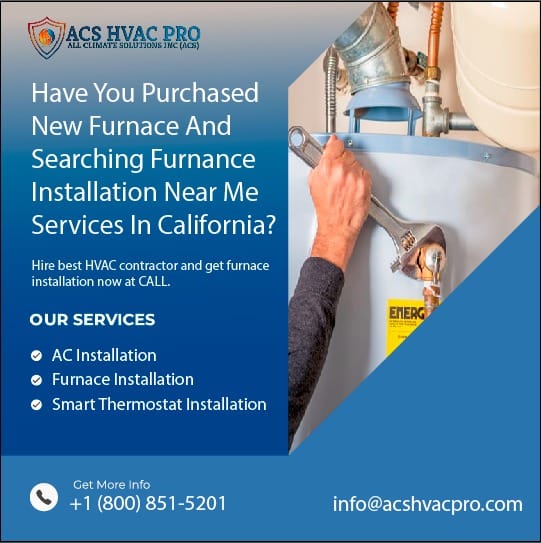 Considering everything, if you need to replace your furnace, you can effortlessly search for furnace installers in my area or furnace installations near me in Sacramento, California. You will get the professionals at All Climate Solutions INC (ACS) – One of the best furnace installation companies. Our team of experts is always ready for emergencies or walk-in wall heater installation, walk-in boiler installation or walk-in heat pump installation in Greater Sacramento, CA. So, get affordable solutions for your needs now. Call us Today! Check reviews on Google Maps from our valued custom