AC Tune-Up & Air Conditioning Maintenance Service Sacramento USA | Jackson | Pollock Pines | Plymouth | Somerset | Roseville, CA
Looking for home ac tune up specials near me, ac tune up, tune up Sacramento, air conditioning maintenance cost? Get Windows AC unit mini split ac tune-ups, Room AC tune up Sacramento ac tune-ups at one of the best heating and air companies near me +1 (800) 851-5201
Why You Need Top AC Tune-Up by Professional AC Technicians in East Sacramento, Downtown Sacramento, West Sacramento, Rancho Murieta, Carmichael, Rio Linda, Natomas, & Elk Grove, CA?
As much as looking after other elements, such as your vehicle, is essential, household units are also vital. Once you buy something, you will need it to last longer, and you will need to opt for maintenance. AC is one central unit that will help your family, friends, and other members stay comfortable and relaxed. Summers are extreme weather, and having an Air conditioner is crucial to go through the summers.
Therefore, before the summers begin, you will need to go through the AC Tune-Up Sacramento, CA, from us. All Climate Solutions INC (ACS) knows about all the different techniques that will make your AC seem brand new again.
It is a must that you take notice of all the signs that your AC is showing. It is always better to get it tuned up and maintained rather than buy a new one. Hence, the best time to consider fixing your AC is right before summer or winter, so the season goes smoothly.
The Difference Between A Tune-up Service & A Maintenance Service 
There are some differences when it comes to maintenance service and tune-up service. It's something that is going to help keep your AC running throughout the time of its usage. At the same time, maintenance keeps it running from year to year. It will have new performances every year. If more significant concerns connect with your AC, call ACShvacpro.com because we know how to fix issues. Our team is equipped with everything you need to have a perfect working AC right before the summer hit.
We will fix all those things and will help to restore the materials. You can choose our tune-up service between an Air Conditioning Installation or Maintenance appointment. It is when the performance of your AC has died down a bit and needs a re-boost.
Tune Ups For All Makes & Models - Rocklin | Florin | Midtown Sacramento | Placerville | Roseville, CA
As one of the best AC Tune-UP local businesses, our professional technicians know tune-ups for all AC makes and models. That is why we can make your AC back to work when performing erratically. Furthermore, we follow a streamlined approach with comprehensive service to increase the lifespan of your AC. We work with all different ACs and their models at affordable & cheap prices. Hence, you can contact us anytime by Calling on +1 (800) 851-5201
We are professionals in Windows AC unit tune; Mini Split AC Tune-Ups, Ductless Air conditioning tune-ups, Home ac tune-up specials near me, and Room AC tune-up Sacramento.
What Do Commercial / Room Air Conditioning Tune-Ups Include?
Filter Cleaning as required

Testing batteries, thermostat operation & calibration

Analyze the proper airflow pressure

Analyze indoor coil and gas leaks

Test capacitors, safety devices, & carbon monoxide 

Measure supply & return air temperatures

Analyze and tighten electrical connections and fuse

Optimize the condensate drain lines

Analyze & test electrical usage, operations, and blower motor bearings

Clean burner assembly & flame sensor

Inspect heat exchanger safety & fan blades

Analyze exhaust system, fan motor & compressor amp draws

Analyze contractors for burns, holes, & adequate connection

Assessment of indoor air quality and safety

Outdoor coil cleaning with chemicals.

Inspection of duct system for energy loss and refrigeration levels
When AC tune-up Sacramento Is Most Suitable & Valuable In Rancho Cordova, Lincoln, Penryn, CA?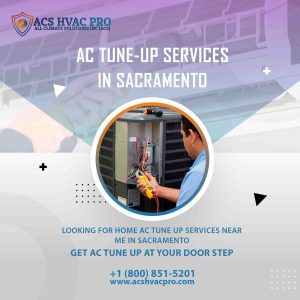 One of the most suitable times for a tune-up service is when you last used it a few months ago, mainly in winter or on long vacations. Also, AC becomes prone to damage when it has dust inside and a lack of lubrication to activate its mechanical parts. Therefore, you will surely need an appointment with us when it is time for Seasonal Tune-Up Rejuvenation.
You should always complete the tune-up for your AC. The main reason is that you might have to cater to more problems than usual which can grow. Therefore, if you need a professional service around your area, then All Climate Solutions INC (ACS) is here. 
Don't Avoid Timely Sacramento AC Tune-Ups In Fair Oaks | Folsom | Gold River, CA & Surrounding Areas
When the AC performance is low or nonexistent, it does not handle temperatures. So, you need AC TUNE UP with All Climate Solutions INC (ACS) to get peace of mind. Avoid AC sputtering clanks by calling ac repair solutions for a tune-up – All Climate Solutions INC (ACS).
If you are looking for Home ac tune up specials near me or commercial ac repairs and searching for Heating and air companies near me, call us. Also, you may check our reviews on Google Maps by our trusted and valued customers.