Searching Commercial AC Repair Near Me / Air Conditioning Repair Near Me / AC Service Near Me In North Highlands California? Rancho Cordova | Lincoln | Penryn | Placerville | Roseville, CA
AC Repair Service in North Highlands, California | Amador City | Cameron Park | Camino | Diamond Springs| Roseville, CA
Looking for air conditioning repair near me in North Highlands, Sacramento, California, USA? Search AC service near me or AC repair near me to find us as top rated AC technician nearby!
The first thing you try to do when your air conditioner breaks down is to restore it to a functioning state. During the summer, commercial establishments rely heavily on air conditioning systems. Thus, providing a comfortable environment for employees and customers is necessary. A malfunctioning or broken AC system can lead to discomfort, decreased productivity, and even lost revenue for the business.
In commercial settings, AC systems are typically more extensive and complex than residential systems, making them more susceptible to breakdowns and other issues. Various factors, such as wear and tear, lack of maintenance, or sudden power outage, can cause these issues. When a commercial AC system is not functioning correctly, it's essential to search for & contact a reliable AC service near me as soon as possible. Delaying repairs can lead to more severe and expensive problems down the road.
Are You Looking for Same-Day Air Conditioning Repair Near Me In El Dorado Hills | Loomis | Ione, CA?
All Climate Solutions (ACS) is a top-rated AC repair service provider that offers high-quality air conditioning repair services to commercial customers in Sacramento, CA. With a team of experienced and certified technicians, ACS has built a reputation for providing reliable and efficient services to customers in their local area for air conditioning repair near me.
We value your time and understand that a malfunctioning AC can cause discomfort. Thus, we want to detect the issues with your air conditioner immediately and fix them as soon as possible. While availing of our 24-hour ac repair, you do not have to compromise on service quality. While we focus on completing our job on time, we also care about the quality of service we provide.
Searching Fully Experienced Technicians For AC Repair Near Me In Auburn | Amador City | Cameron Park, CA?
Our technicians are qualified, certified, insured, and have at least five years of expertise. We have all the necessary tools and equipment to repair all the well-known air conditioner manufacturers. You can count on us to handle anything with the utmost commitment and expertise, from simple fixes to more challenging air conditioning repairs.
With our commitment, we win honours and earn a place in the hearts of our clients. They first turn to All Climate Solutions INC (ACS) for air conditioning repair because of the high calibre of our services.
Best AC Repair and Maintenance When You Need Top Rated AC Repair Near Me In Sacramento, CA
All Climate Solutions INC (ACS) offers a comprehensive range of services for the repair and upkeep of all your appliances on a business level. You don't have to hunt for several service providers to address various issues, installation, maintenance, and quick 24-hour ac repairs. We offer other services, including installing, maintaining, and repairing heat pumps and ductless air conditioners.
You'll find an endless list of businesses claiming to be the greatest if you conduct a fast Google search for a reliable AC Service contractor or ac repair near me. While every contractor claims to complete the job correctly, many will only follow through. Don't accept another generic provider when you require an attentive ear and a warm disposition.
Worry-Free, Easy AC Services in USA | Orangevale | Rancho Cordova | Lincoln, CA
You won't need to worry when working with All Climate Solutions INC (ACS). We are the company you can depend on to do AC service according to industry standards while keeping you informed at every stage. We have the expertise to complete the task correctly and the diligence to ensure flawless delivery.
Competent Air Conditioning Work California | Rocklin | Florin | Midtown Sacramento, CA
All Climate Solutions INC (ACS), a local technician for those looking for dependable AC Service, has been in the business for over 20 years.
The All Climate Solutions INC. (ACS) team is skilled at what it does and takes pride in its output. Keeping an eye out for our client's requirements, we want you to be a long-term customer, not just a one-time caller. It means that, unlike other businesses, we will go above and beyond to ensure your satisfaction.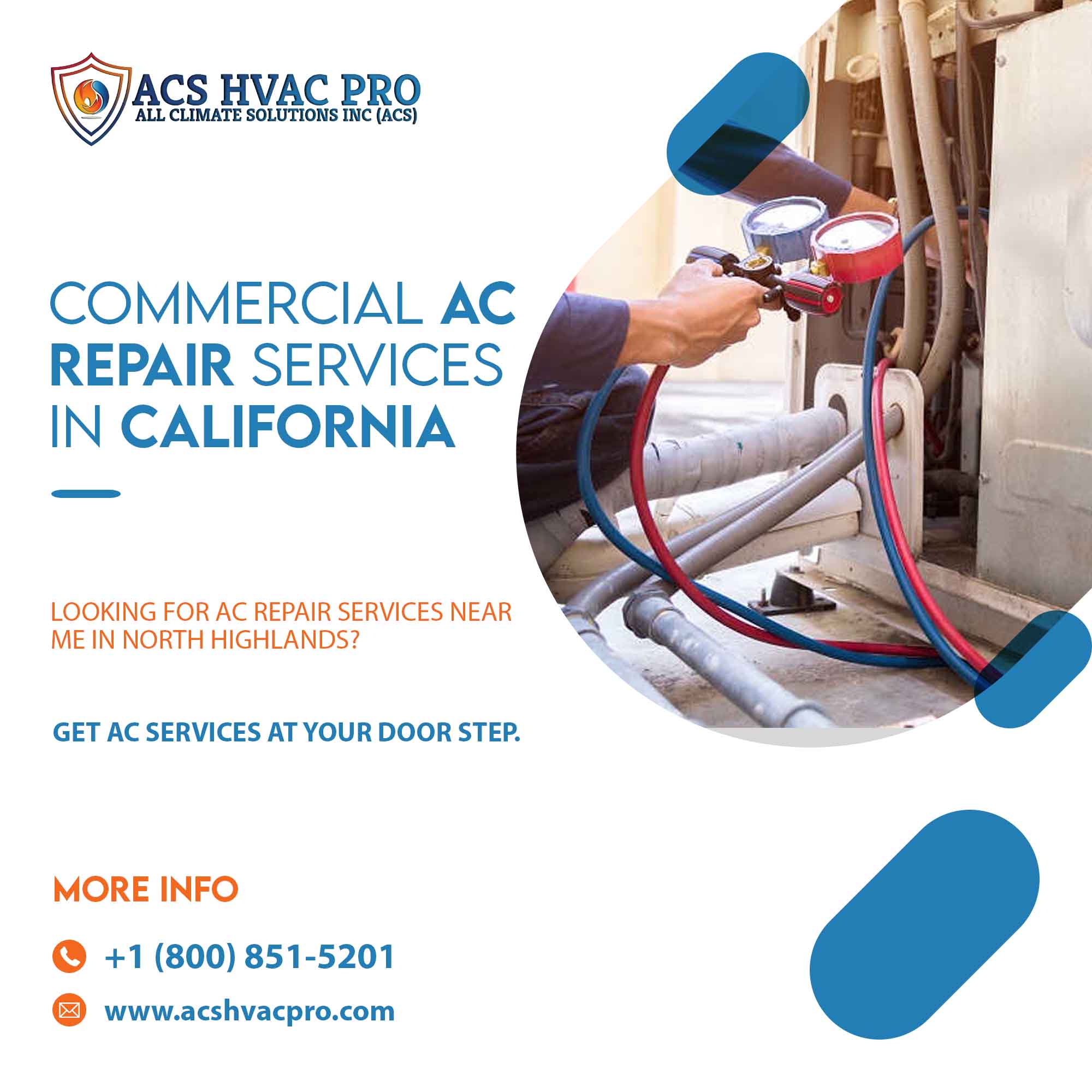 Lower Your Energy Bills by Servicing your Central Air System!
Our AC servicing will restore your AC's effectiveness. Your energy expenses will go down, and it will lessen the need for pricey, extensive repairs. Our AC services are dependable and completed correctly the first time since we are committed to our consumers for the long term. 
Common AC Services In Carmichael, CA | Rio Linda, CA | Natomas, CA
The comfort of your business is an investment in your air conditioner. All Climate Solutions INC (ACS) maintains your investment at its highest level. Our AC Services provide your AC with a complete tune-up, cleaning, testing, and lubrication to get it running smoothly. You and your family will enjoy unrivalled home comfort with AC servicing.
Friendly & Professional Technicians In Downtown Sacramento | West Sacramento | Rancho Murieta, CA
You will enjoy a degree of courtesy that is uncommon these days with technicians who are friendly and professional. Our team got the right to work while maintaining your AC because they are knowledgeable and comfortable working with all kinds of machinery. We believe in fair and honest business procedures; thus, we will take extra care to ensure you are satisfied with the work. 
Call the Heating and Cooling Experts at All Climate Solutions INC (ACS) for Home Services In Somerset | Citrus Heights | Carmichael, CA & Surrounding Areas
If you need ac repair near me service in Sacramento, contact All Climate Solutions INC (ACS) for reliable assistance. You can contact us by calling +1 (800) 851-5201, and our team of experts will gladly assist you. You can also check out our reviews on Google Maps to see what customers say about our services. We take pride in our work and strive to provide top-notch customer service to our clients.