Get AC Installation Cost For Central & Portable Air Conditioner Installation Sacramento, California | Penryn | Placerville | Roseville | Rocklin | Florin, CA
Looking for central air installation cost near me in North Highlands? Get the best AC installation cost for portable air conditioner installation & cost of split ac unit by professionals on call. For walk-in ac installation services, call us at
+1 (800) 851-5201​
Central Air Installation That Lets Your New AC Shine - Best AC Installation Cost in North Highlands | Lincoln | Penryn | Placerville | Roseville, CA
All Climate Solutions INC (ACS) makes AC Installation easy!
Everyone needs AC installation that lasts with maximum and optimal use. For this reason, we are here to provide you with guaranteed services for new air conditioner installation with a competent and secure approach. 
Many items would be at the top of your list of requirements for your facility if you were a business owner. You might need to outsource some technical components of the work, even though you have the expertise and resources to manage the administrative tasks. Your air conditioner is one of these technological components. It's simple to think that all this activity entails is a quick trip to the store, the cost of split ac unit, and portable air conditioner installation. However, you would quickly discover that if you made any errors during the ac installation, you would not end up with a piece of equipment that did nothing to satisfy your demands. You may also have to spend extra money to fix the situation.
Hiring us will result in top-notch ductwork along with air conditioning placement. So, pick up your phone and dial +1 (800) 851-5201​ for ACS technicians.  
Getting a New Air Conditioner
Getting a new air conditioner should be an exciting time without any stres. All too often, though. It can become overwhelming when you have a million choices and a family needing your direction. All Climate Solutions INC (ACS) has nearly twenty years of experience helping communities around California to receive the right AC Installation.
What is the Major Step in Portable Air Conditioner Installation?
Most individuals mistakenly believe that going shopping comes first in installing an air conditioner. Determine whether you require an air conditioner before you even consider purchasing one. Sometimes, a seemingly simple answer could foretell calamity, even though the tragedy might not immediately occur. However, you are forced to pay the cost of split ac unit somewhere down the line. You can discuss your alternatives with the manager of the building or facility. And if they suggest connecting an air conditioner to your building.
Determine Which Air Conditioner Unit Will Best Meet Your Needs
Once more, it would be best if you addressed the specialists, but this time, it should be the air conditioner installer.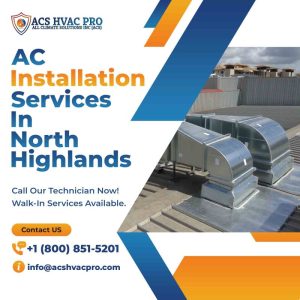 We have a team of professionals who will assess your available space, your available money, and the layout of your electrical wiring. Based on their results, we suggest the type of air conditioner best suits your needs. You should seek professionals with the appropriate experience, expertise, and willingness to go above and beyond if you want the most outstanding results. In addition to offering you a complete quote that would include the central air installation cost, All Climate Solutions INC (ACS) will assist you in selecting the best unit for your needs.
Let All Climate Solutions INC (ACS) Install the Unit for you at Best Cost of Split AC Unit & Central Air!
If not handled by a group of effective pros, ac installation might be laborious. All Climate Solutions INC will schedule a time and date to install your new appliance. You can avail of our online booking or walk-in services without interfering with your usual business operations. In other words, we would make every effort to make ourselves barely noticeable. After the job is finished, we will provide detailed instructions on using the machine.
Searching For Cheap Central Air Installation Cost In North Highlands - Affordable AC Installation Cost Sacramento | Auburn | Amador City, CA
The ac installation cost might vary substantially. It relies on several variables. The kind of system you select will also affect the price of your installation. For instance, a heating and cooling central air system may range from $3,800 to $7,500. On the other hand, a split ductless system can cost anywhere between $2,000 and $14,500. Central air conditioning installation typically costs $5,700. The price range, however, is between $4,000 and $7,500. In extreme cases, the cost of installing a new central air conditioner can reach $11,000.
If you are looking for central air installation cost USA, cheap ac installation cost California, portable air conditioner installation, or cost of split ac unit, call us. Also, you may check our reviews on Google Maps by our trusted and valued customers. 
Contact us today to get your AC Installation in All Climate Solutions INC (ACS) estimate now.